Christmas Motifs Machine Embroidery Designs Set
RPE-1537-01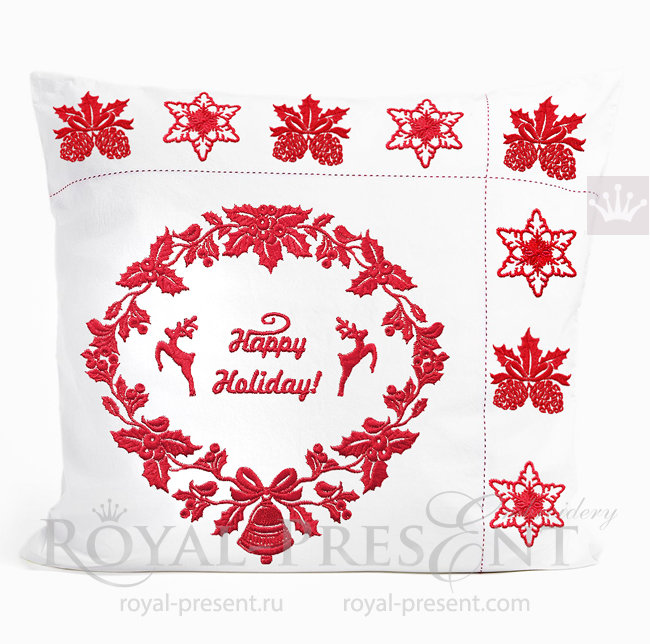 This set consists of a beautiful Christmas wreath and decor in the form of cones and snowflakes. Textile accessories such as kitchen towels, aprons and oven mitts embroidered with these motifs can be pleasant holiday gifts for co-workers or loved people.
Christmas wreath
Size: 158.0x153.5 mm (6.22x6.04 "), Stitches: 23610
Size: 178.4x173.4 mm (7.02x6.83 "), Stitches: 26320
Size: 198.4x193.0 mm (7.81x7.60 "), Stitches: 29047
Snowflake
Size: 39.0x45.0 mm (1.54x1.77 "), Stitches: 2572
Size: 46.8x53.8 mm (1.84x2.12 "), Stitches: 3092
Size: 56.1x64.5 mm (2.21x2.54 "), Stitches: 3593
Size: 67.1x77.2 mm (2.64x3.04 "), Stitches: 4203
Size: 85.7x98.6 mm (3.37x3.88 "), Stitches: 5208
Cones
Size: 56.5x57.5 mm (2.22x2.26 "), Stitches: 4822
Size: 67.8x68.9 mm (2.67x2.71 "), Stitches: 5725
Size: 81.2x82.6 mm (3.20x3.25 "), Stitches: 6938
Size: 96.9x98.5 mm (3.81x3.88 "), Stitches: 8516
Formats: .pes, .pec, .hus, .vip, .dst, .exp, .sew, .exp, .dat, .vp3, .jef, xxx
Bobbin thread for embroidery machine - which one to choose?
As a rule, we most often treat responsibly the choice of the upper thread. And for some reason never think about the fact that the correct choice of the shuttle thread is very important. Moreover, it directly affects the successful work on the embroidery project. After all, the bobbin thread is involved in the formation of all the stitches of your embroidery.
In machine embroidery there are several types of lower (spool) threads.
~ Cotton thread, which is characterized by a soft natural look. Please note that this thread is quite thick, which means that it will add extra volume to your embroidery.
Advantages:
- Easily adjustable thread tension
- The thread is also easy to use.
Disadvantages:
- Easy to tear
- Leaves villi behind, thereby heavily contaminating the bobbin case.
~ Nylon Monofilament is a nylon thread. It is very durable, smooth and thin. Please note that manufacturers recommend to pay special attention to setting the tension of such a thread. It is possible to use a nylon shuttle thread for projects where both sides of the embroidery are visible. For example, for napkins, handkerchiefs or scarves.
~ Polyester shuttle thread is ideal for embroidery on thin fabrics, or in case you need to reduce the volume of embroidery.
We hope this information will be useful to you. And Poinsettia Christmas Tree Machine Embroidery Designs Set decorates the kitchen and dining room interior with bright colors and adds a special "peppercorn" to your feast.
To achieve a perfect result, use Madeira Cotton Fix Tear Away Stabilizer. It is made of non-woven tear-off material. Moreover, it is already sticky and protected by paper. Or you can use Madeira Cotton Stable Tear Away Stabilizer, which is glued with an iron and tear off at the end of embroidery.
Please don't sell or trade the embroidery file.
Hoop size:160x240 mm (6.3x9.45"), 160x160 mm (6.3x6.3"), 160x260 mm (6.3x10.24"), 180x300 mm (7.09x11.81"), 100x300 mm (4x11.81"), 180x180 mm (7.09x7.09") 200x260 mm (8x10.24"), 200x200 mm (8x8"), 200x300 mm (8
Tags:Christmas, New Year, cones, needles, spruce, tablecloth, Deer, Christmas Star, monochrome, red
New arrivals:no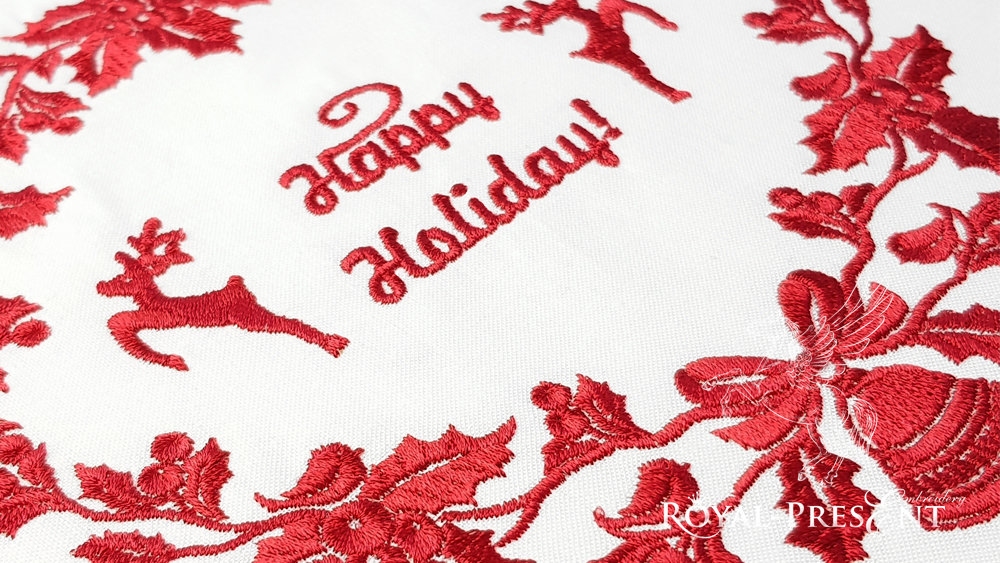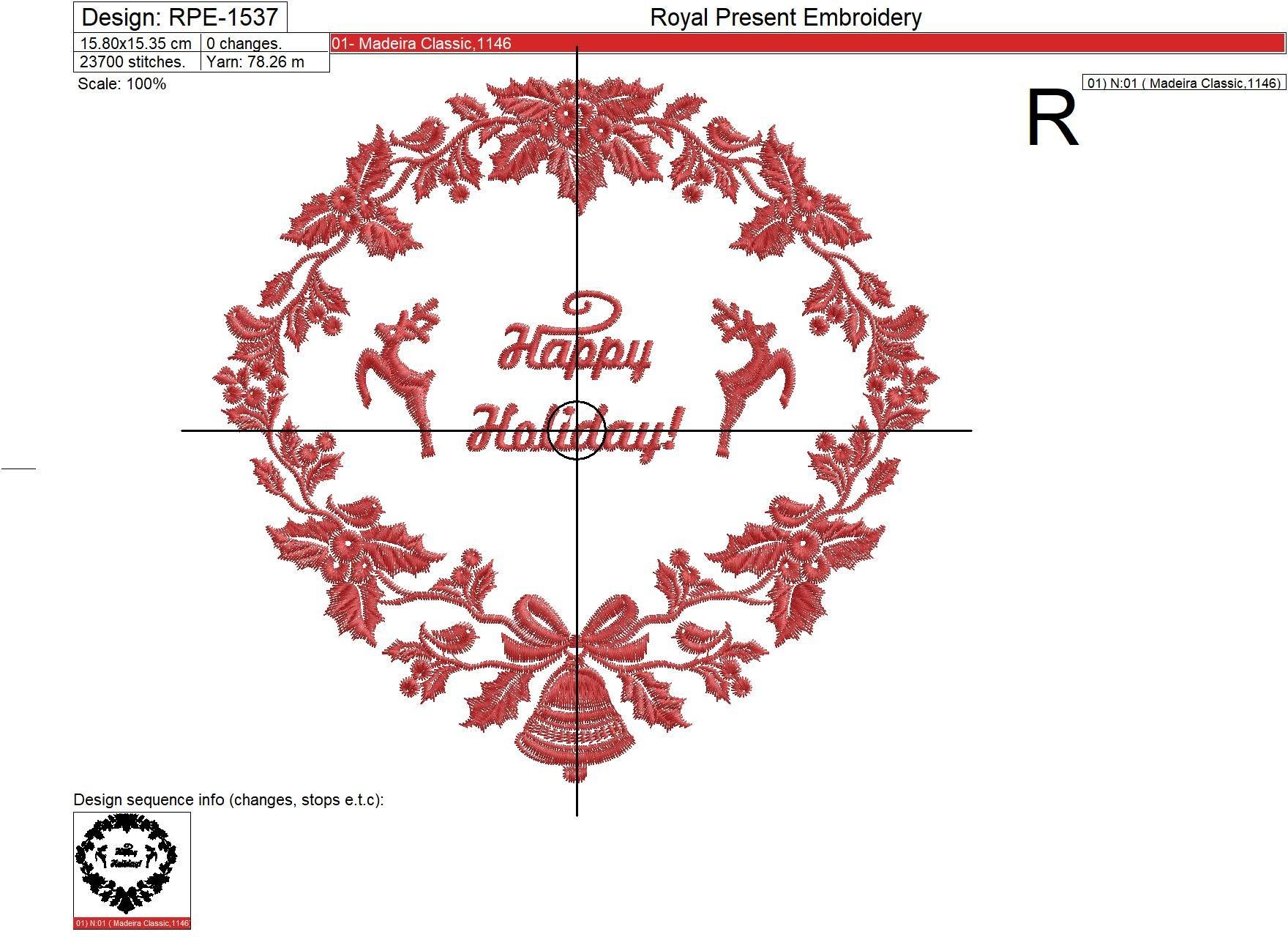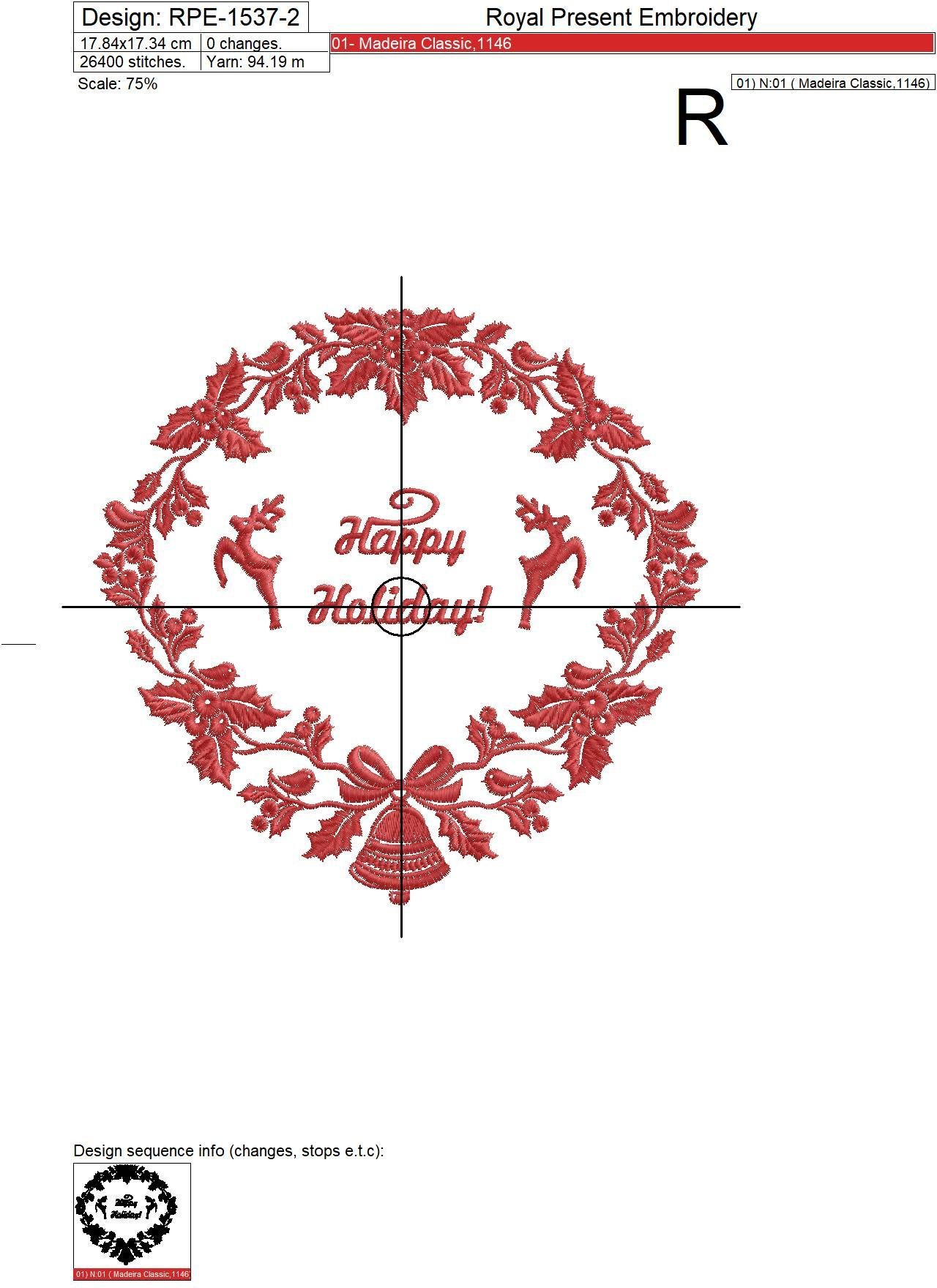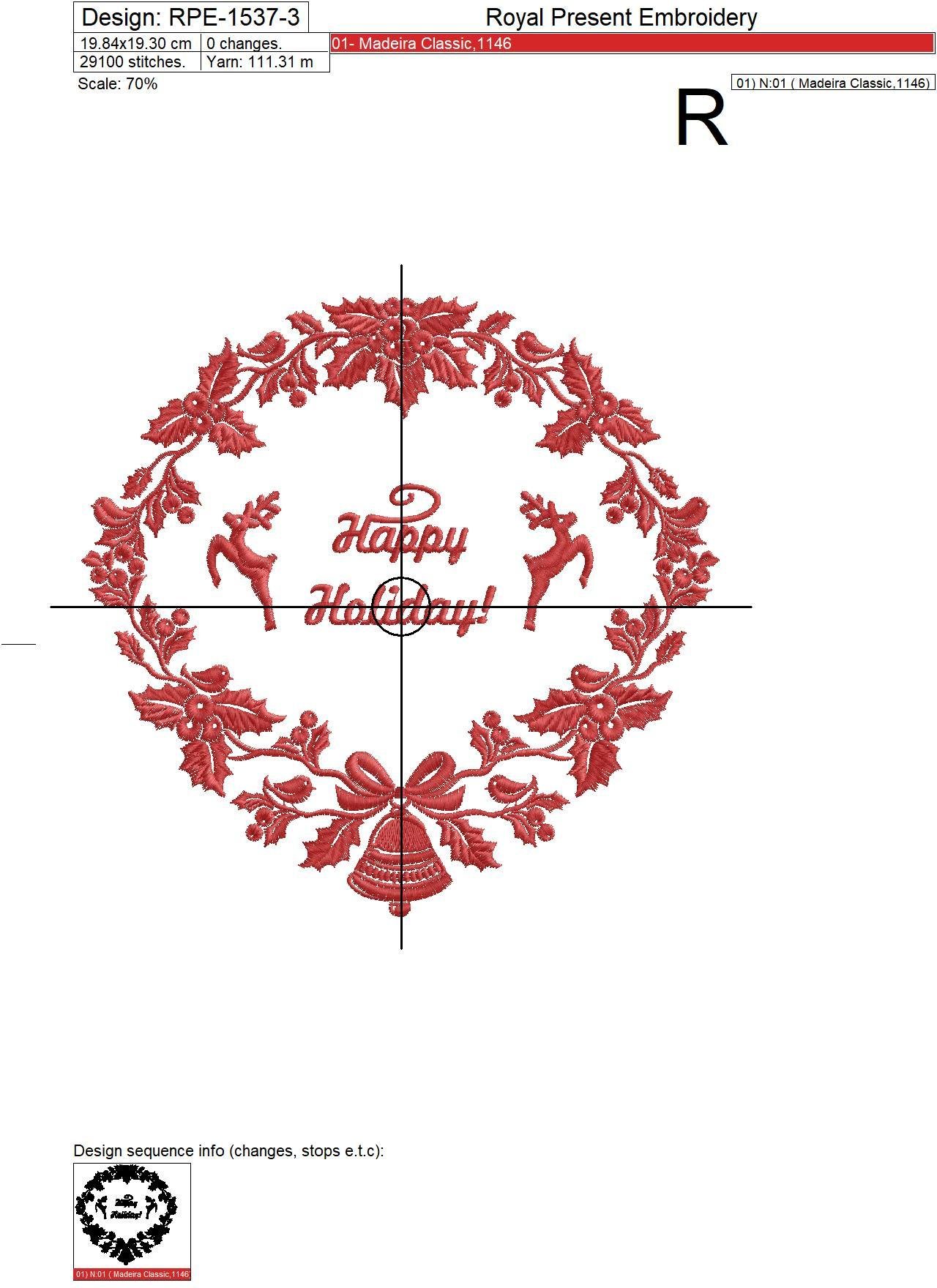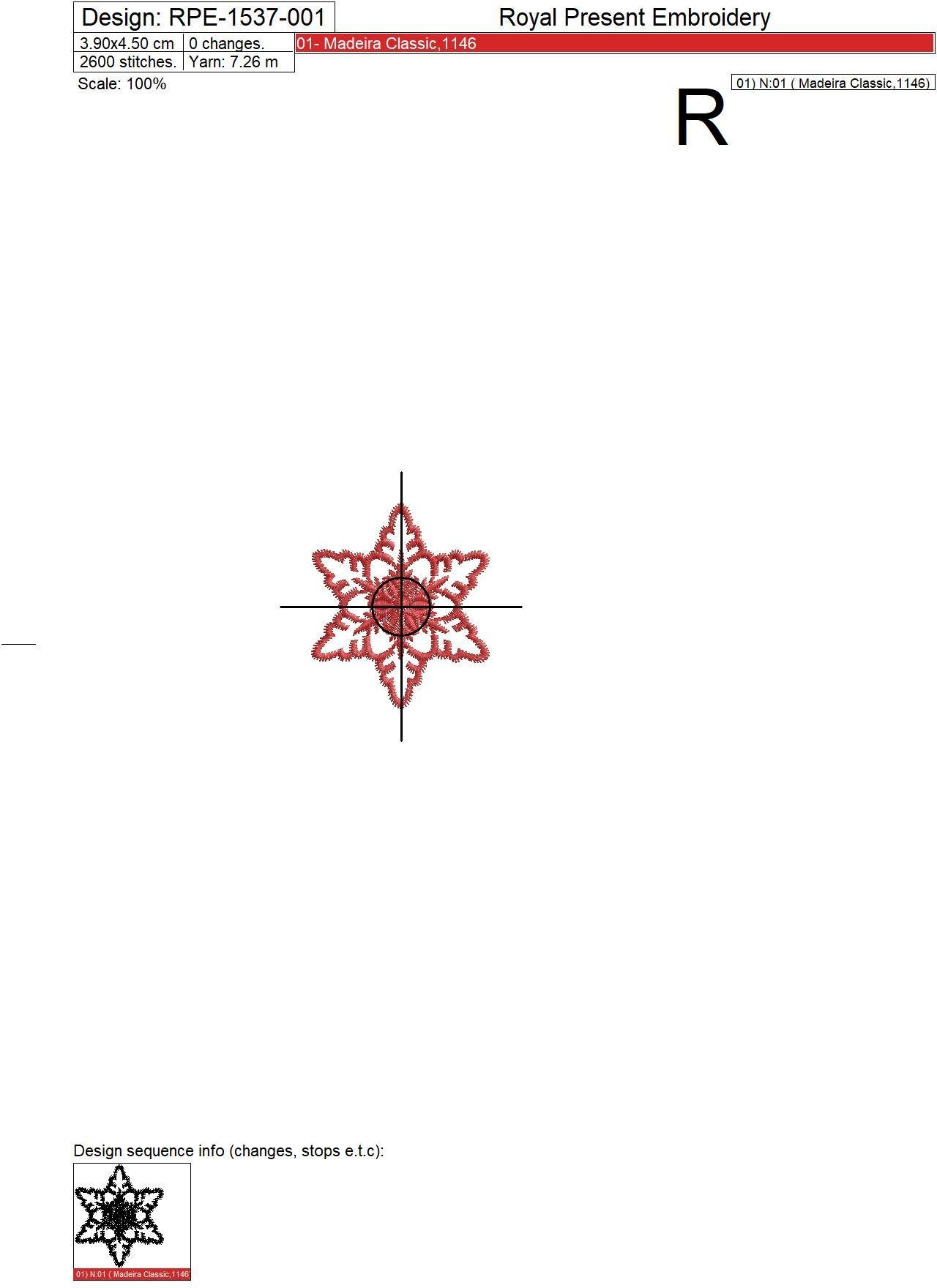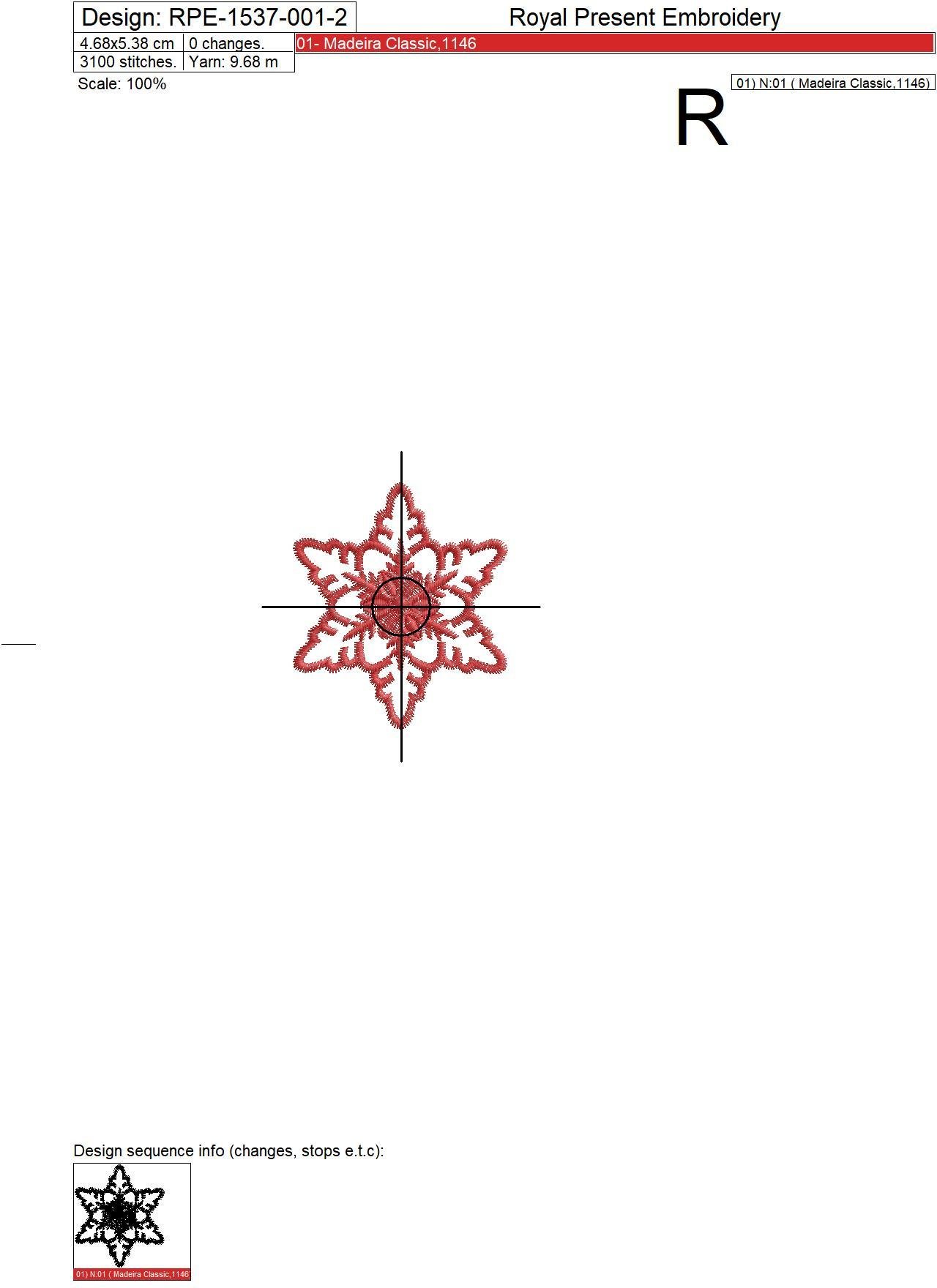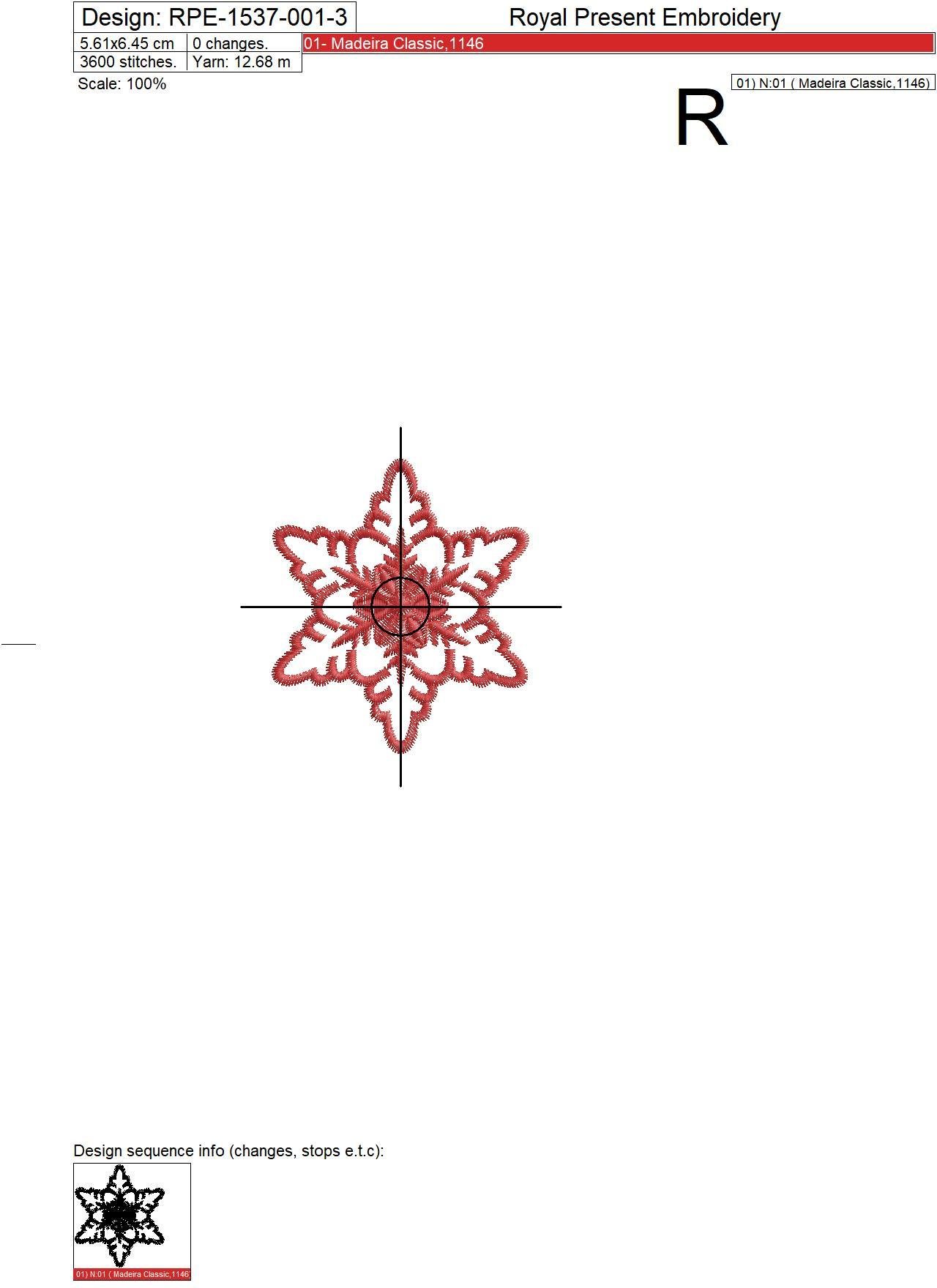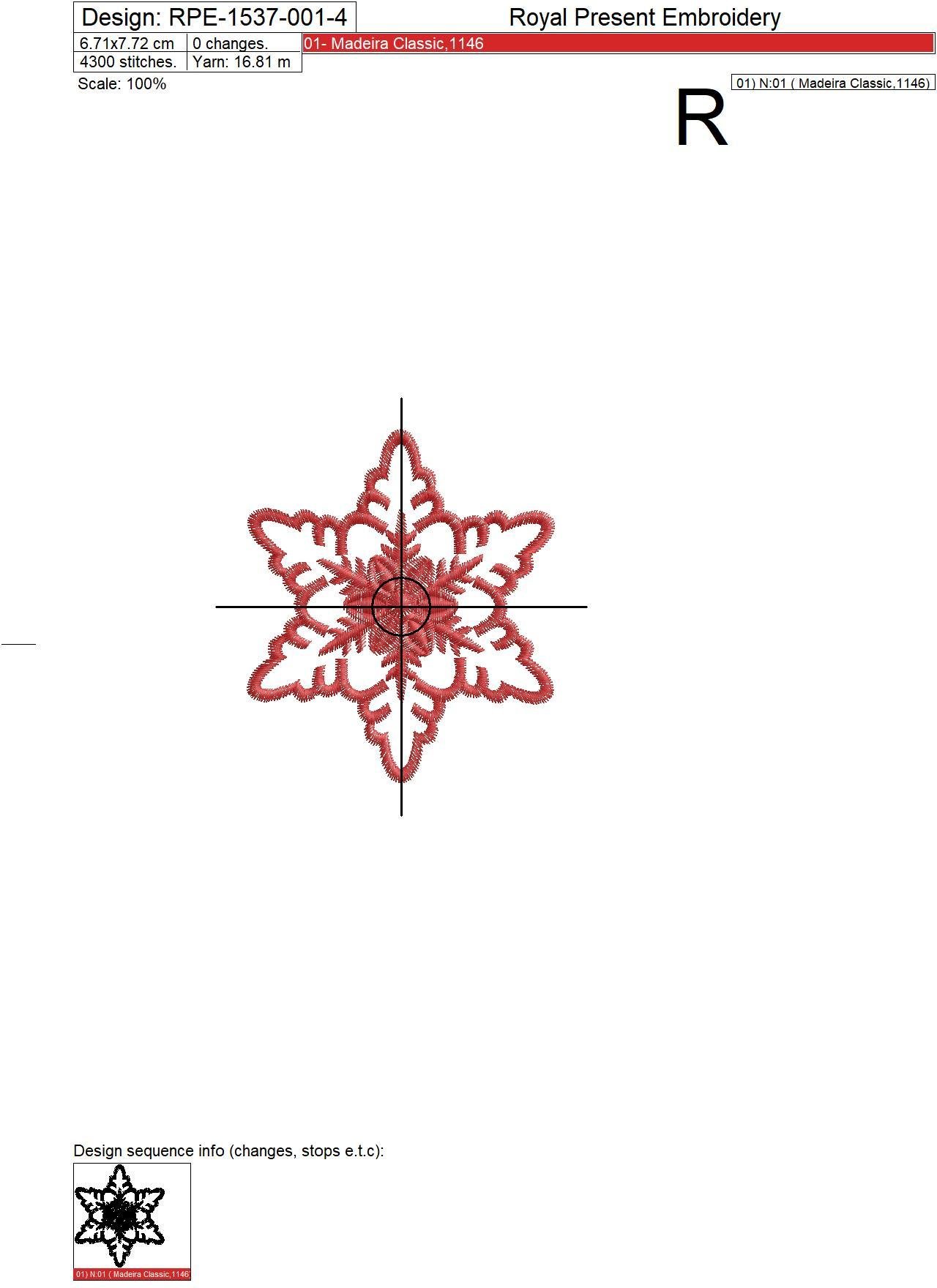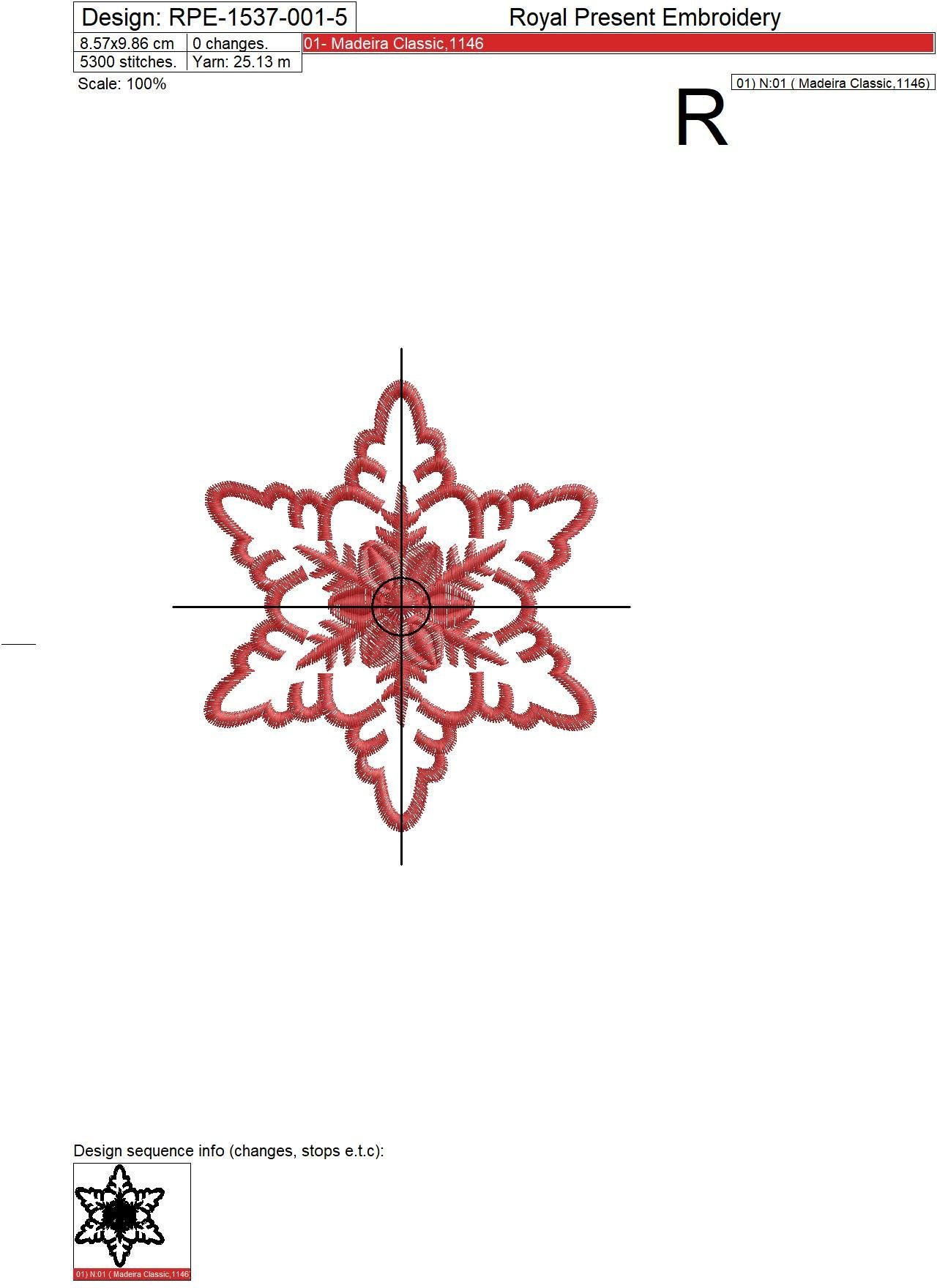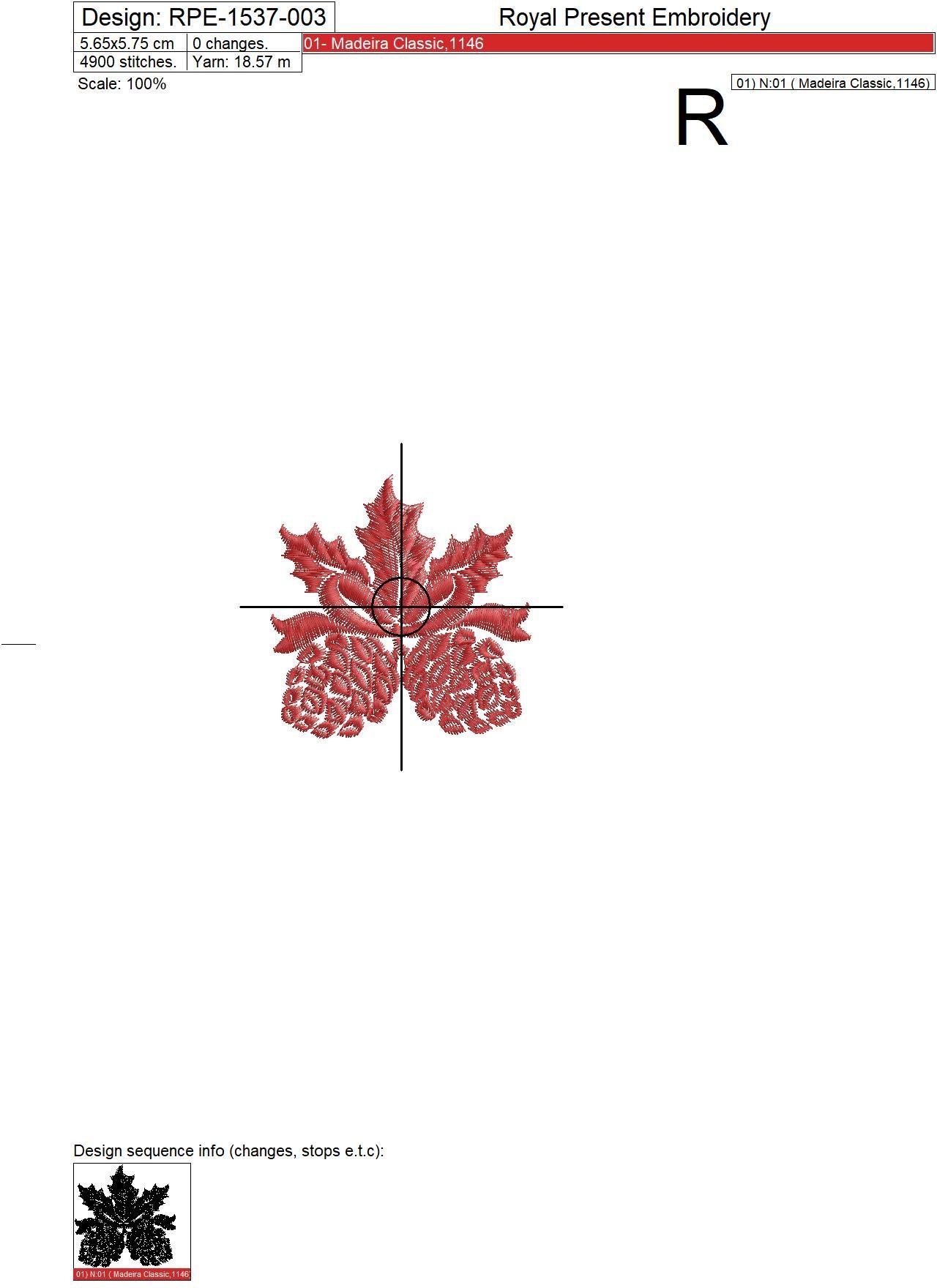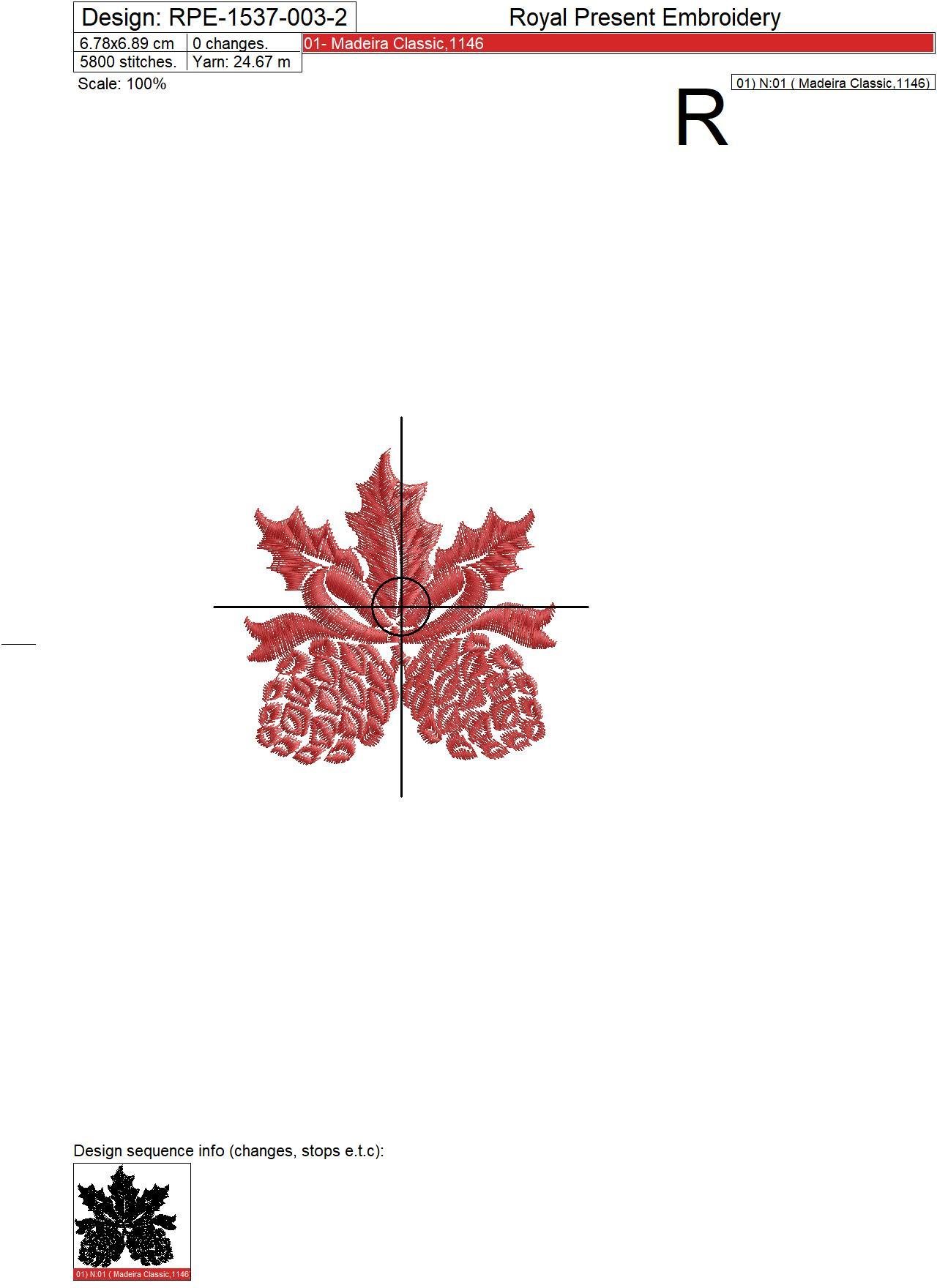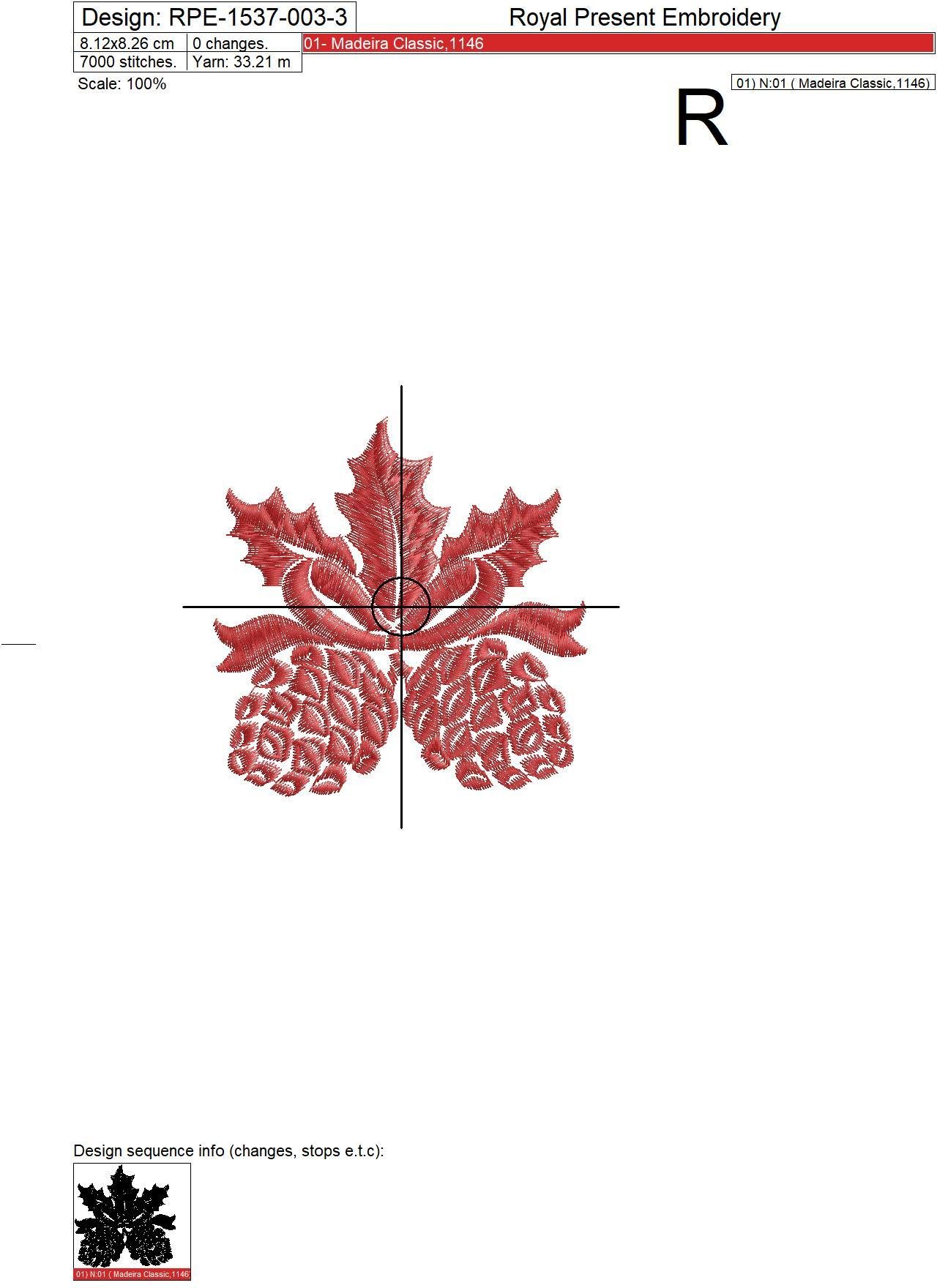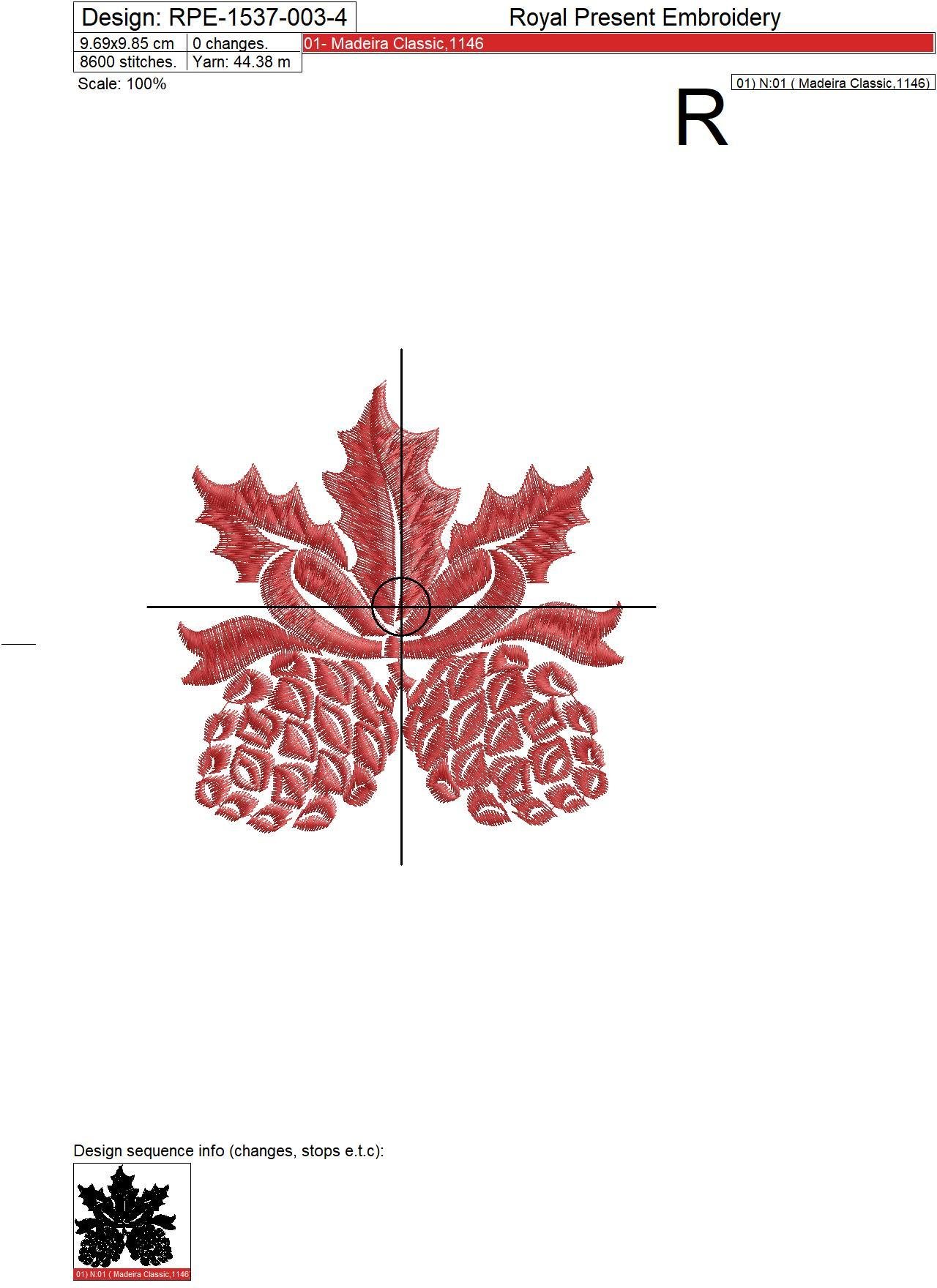 Free Machine Embroidery Designs Machine Embroidery Patterns Online
Welcome to our Internet Machine Embroidery designs Store and Free Machine Embroidery Patterns online.
Here you will find exclusive designs for machine embroidery as well as cross stitching that will allow you to create stunning pieces for your home or unique gifts for any occasion.
Interior embroidery is a new trend in home design. Having just a few embroidered pieces in your house or apartment will allow you to significantly improve the look of your space as well as creatively express your own personal style.
Royal Present Embroidery offers and sells digitized machine embroidery designs
Royal Present Embroidery reserves the right to change the Sewing Machine Embroidery Patterns or remove them altogether from the online embroidery shop without any previous warning. Don't forget to download the files with the designs as soon as you have purchased them. Please, make sure to choose the size and format of the file, compatible with those of your embroidery machine.
For the download to be successful, the settings of your Windows should be right. Also, for older operating systems, your computer needs to have the right software for ZIP files. After you have downloaded the design in a ZIP file, unzip the folder to extract the files.
If you haven't received the design you ordered. Log into your personal account (My account) and download the file from there.
Designs Information
In the archive you buy, there are .jpg files, which are the instruction for each embroidery design. You need to make sure, that this instruction has a 100% scale. This is written in a left upper corner of the instruction. If the design doesn't fit on one A4 sized sheet, the instruction can contain from few sheets. They are usually named (1-1), (1-2) and etc., which are after the name of the actual design. For example, if the name of the design is RPE-1002, then the instruction can consist of several pages with a name: RPE-1002(1-1), RPE-1002(1-2) and etc.
To check the position where you plan to embroider, you can print out the instruction and try in on the textile. In the instruction, you will see the centre of the embroidery and the horizontal and vertical position. You can mark the centre on the textile so its more comfortable to embroider where you want.
IT IS IMPORTANT! We never divide our designs! If your hoops are too small to embroider big designs, you can divide our designs in a program, which is for your machine.
Happy shopping !
Please follow and like us: